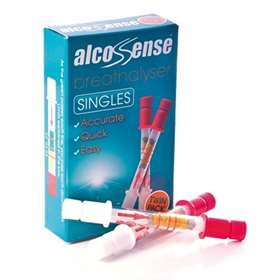 Click on image to enlarge
| | |
| --- | --- |
| Price: £4.99 (incl VAT) | Sorry, this product is no longer available. |
AlcoSense Breathalyser Singles are the most reliable and accurate single-use breathalysers in the world. Quick and effective screening devices, they go further than simply showing if there is Alcohol in your system.
AlcoSense Breathalyser Singles give results in less than two minutes, making it a quick and effective screening device. The three rings around the tube help show how much alcohol is in your system by indicating the three most common alcohol limits:
0.2% - UK Air and Rail Limit & the Irish Professional Driver Limit
0.5% - BAC for Irish and European Driver
0.8% - BAC for the UK driver
AlcoSense Breathalyser Singles
come with a small blow bag that ensures the correct amount of air flows through the tube for an accurate reading.
Yellow patented crystals turn Green when alcohol is present and the further up the rings the Green is the higher the alcohol content in your blood.

Made with medical grade toughened glass and snap-off ends, AlcoSense Breathalyser Singles have a shelf life of up to 2 years.

Directions of use:
Blow heavily into tube.
See side of breathalyser for readings.
Please see inside box for full instructions.

Cautions and Warnings:
Readings of this product will not be considered evidence in a court of law.
Drivers take full responsibility for acting upon readings.
Not suitable for use in France due to new regulations.