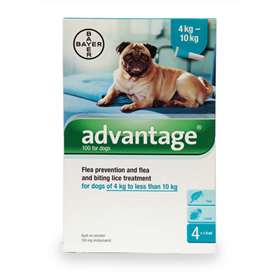 Click on image to enlarge



Price: £17.30 (incl VAT)

Advantage Flea Prevention and Treatment Solution for Dogs 4 x 1.0ml is a topical application for dogs of 4 kilos to less than 10 kilos for the prevention and treatment of fleas and biting lice.

The active ingredient is Imidacloprid 100mg/ml provided in 4 pipettes each containing imidacloprid 1.0ml. The product can be incorporated into a treatment regime for the control of Flea Allergy Dermatitis (FAD) in both cats and dogs where this has been diagnosed by a veterinary surgeon. Flea bite hypersensitivity or flea allergic dermatitis is very common in cats, and is the most common skin disease to be diagnosed in pets. The product remains effective even if the animal becomes wet, although in these circumstances it is recommended to use more than just weekly.

Canine chewing louse (Trichodectes Canis) is a chewing louse found on domesticated dogs that can infest, cause discomfort, skin irritation and other related integumentary symptoms. It can cause the coat to feel scruffy and dry, and cause symptoms such as hair loss and severe itching and in severe cases infestation, blood sucking canine lice can cause anemia.
3-4 weeks protection.
Ideal for dogs weighing 4kg to less than 10kg.
Topical Spot On solution.
For the prevention and treatment of Fleas and biting Lice.
Kills fleas on dogs within one day after application.
Specifically targeted for Dogs.
Direction for Use:
This dose will provide protection against flea infestation for 4 weeks on the dog.

Use correctly to safeguard your pet and your health, and read the enclosed instruction leaflet before use. Do not use on puppies of less than 8 weeks of age.

Cautions:
Keep out of the sight and reach of children.
Store away from food, drink and animal feed.
Keep the container in the outer carton.
Do not use after the expiry date.
Dispose of used packaging in the household refuse.
Unused product should be returned to to the veterinary surgeon.
Re-infestation from emergence of new fleas in the environment may continue for 6 weeks or longer after treatment.
The product remains effective if the animal becomes wet.
Poisoning following inadvertent oral uptake in animals is unlikely.
In the event treatment should be symptomatic under veterinary surgeon attention.
In the case of biting lice infection in dogs, a veterinary examination 30 days after treatment is recommended as some animals may require a second treatment.
The solvent in Advantage may mark certain materials including leather, fabrics, plastics and finished surfaces.
Allow application site to dry before permitting contact with such materials.

Warnings:
The product contains Benzyl Alcohol and may cause skin sensitisation or transient skin reactions (for example irritation or tingling).
Avoid contact between the product and the skin, eyes and mouth.
Do not eat, drink or smoke during application.
Wash off any skin contamination with sop and water.
If the product gets into the eyes accidentally the eyes should be thoroughly rinsed with copious amounts of water.
If skin and eye irritation persists obtain medical attention.
There is no known specific antidote but administration of activated charcoal may be beneficial.

Ingredients:
Active substance Imidacloprid 100mg, Butylhydroxytoluene 1.0mg




| | | | | |
| --- | --- | --- | --- | --- |
| Product code: 3942174 | | Price: £17.30 (incl VAT) | | |