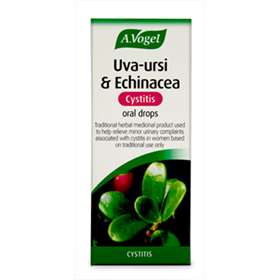 Click on image to enlarge



Price: £7.90 (incl VAT)
(Buy any 3 or more A. Vogel products and save 5%)
Price: £7.90 (incl VAT)
(Buy any 3 or more A. Vogel products and save 5%)
This remedy contains two herbs traditionally used to treat cystitis. Uva-ursi or Bearberry is a small woody shrub which thrives in the mountains of Alfred Vogel's Switzerland. This is combined with Echinacea purpurea, well known for its role in the treatment of colds and flu as it strengthens the function of the body's immune system.

Uva-ursi & Echinacea Cystitis oral drops is a traditional herbal medicinal product used to help relieve minor urinary complaints associated with cystitis in women such as:
Burning sensation when urinating.
Frequent urination.
Directions for Use:
For oral use only.
Adult women over 18 years:
Take 15 drops in a little water two to five times daily.

Caution Do not use if you:
Are having treatment or medicine for reducing the response of your immune system.
Have an organ or bone transplant, TB, autoimmune and connective tissue disorders, MS HIV/Aids, Bone marrow disorder or leukaemia.
Have a kidney disorder or severe heart or kidney disease.
These conditions and treatments all relate to serious immune system problems, heart or kidney disease, which should be managed by a doctor.

Ingredients:
1ml of oral liquid contains:

715mg of tincture from fresh Uva-ursi herb (Arctostaphylos uva-ursi (L.) Spreng. herb) (1:4). Extraction solvent: Ethanol 43% m/m
240mg of tincture from fresh Echinacea herb (Echinacea purpurea (L.) Moench) (1:12). Extraction solvent: Ethanol 57.3% m/m





Product code: 4001608
Price: £7.90 (incl VAT)
(Buy any 3 or more A. Vogel products and save 5%)