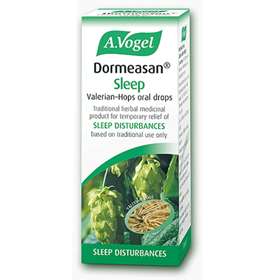 Click on image to enlarge



Price: £3.50 (incl VAT)
(Buy any 3 or more A. Vogel products and save 5%)
Price: £3.50 (incl VAT)
(Buy any 3 or more A. Vogel products and save 5%)
A. Vogel Dormeasan is ideal for temporary relief of sleep disturbances.

Dormeasan Sleep are traditional herbal drops made from Valerian-Hops. With sedative properties A.Vogel Dormeasan drops aid those who suffer from sleep disturbances or have difficulty getting off to sleep.
Contain Valerian-Hops.
Helps aid sleep.
Sedative properties without the hangover feeling.
Also available in 50ml
Dormeasan drops may also relieve the symptoms of mild anxiety.

Directions for Use:
For sleeplessness:
Adults: 30 drops in a little water or fruit juice, half an hour before bedtime.Do not take anymore than 70 drops in 24 hours. There are no restrictions on long term use.

For anxiety:
10-20 drops in a little water or fruit juice to be taken twice a day.

Please note:
This preparation should not be used to replace or accompany prescribed tranquillisers without consulting your doctor.
Not to be taken during pregnancy or whilst breast feeding.
Not suitable for those under 18 years of age.
Do not take if you are allergic to any of the ingredients listed below.
Please read product information leaflet enclosed before taking this product.

Ingredients:
1ml of oral liquid contains 0.5ml of Valerian root.
Contains the tinctures of: Valeriana officinalis (Valerian) Dried root 50% and Humulus lupulus (Hops) herb 50% both organically grown. Alcohol content: 65% v/v.

Warning:
A.Vogel Dormeasan Drops contains Ethanol Harmful for people suffering from alcoholism.








Product code: 3677861
Price: £3.50 (incl VAT)
(Buy any 3 or more A. Vogel products and save 5%)