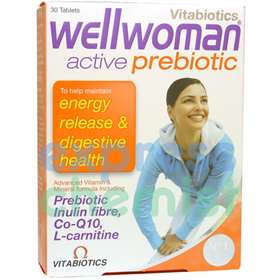 Click on image to enlarge
| | |
| --- | --- |
| Price: £8.99 (incl VAT) | Sorry, this product is no longer available. |
WellWoman Active Tablets - Multivitamin and prebiotic goodness, to help maintain health and release energy.
Advanced vitamin and mineral formula.
Includes - Inulin Fibre, C0-Q10 and L-Carnitine.
Developed to help sustain energy release in women.
Pack of 30, easy to swallow, 2cm long, terracotta coloured tablets.
Women who have busy, hectic lifestyles need to ensure they have sufficient intake of essential nutrients energy release. Also combined in this formulation, are other essential nutrients that help to maintain general well being, and a healthy digestive and immune system:
Prebiotic Health: The fibre Inulin, helps to create a environment of good bacteria in your digestive tract by encouraging more to grow. Keeping the gut healthy and happy is beneficial to the immune system and general well being.
Energy Release: Vitamin B plays a vital part in assisting the release of energy. L-Carnitine and Co-Enzyme Q10 help to support muscle function.
General Well-being: The combination of anti-oxidants, iron, folic acid and many other nutrients in WellWoman Active, have been specifically selected for women's needs and the particular areas of health most relevant to them.
Immune Health: Vitamin E, Vitamin C, Bioflavonoids, Zinc and Selenium all help to maintain a healthy immune system.


Directions: Swallow 2 tablets with a glass of milk or water, along side a main meal.
Taking WellWoman Active over time acts as a general multivitamin and therefore does not require an additional nutritional supplement to be taken along side it.

Nutritional information & Ingredients per average 2 tablets: Inulin 1000mg • Magnesium Oxide • Binding Agent: Microcrystalline Cellulose • Vitamin C 60mg • Tablet Coating: Hydroxypropylmethylcellulose • Iron 14mg (Titanium Dioxide, Iron Oxides - natural colouring)• L-Carnitine Tartrate 30mg • Niacin/Nicotinamide (Vitamin B3) 10mg • Ferrous Fumarate • Vitamin E 30mg • Zinc Sulphate 15mg • Para Amino Benzoic Acid • Thiamin (Vitamin B1) 10mg • Anticaking Agent: Silicon Dioxide • Lubricants: Stearic Acid • Magneseum Stearate • Citrus Bioflavonoid Extract 10mg • Natural Mixed Carotenoids 2mg • Vitamin B6 10mg • Riboflavin (Vitamin B2) 5mg • Pantothenic Acid (as Calcium Salt) 6mg • Manganese Sulphate 2.5mg • Copper Sulphate 1500µg • Vitamin D3 5µg • Vitamin K 90µg • Co-Enzyme Q10 2mg • Folic Acid 400µg • Selenium 100µg • Chromium Trichloride 50µg • Biotin 50µg • Vitamin B12 20µg.

*WellWoman by Vitabiotics.