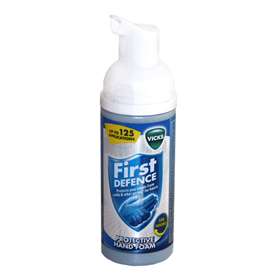 Click on image to enlarge
| | |
| --- | --- |
| Price: £4.09 (incl VAT) | Sorry, this product is no longer available. |
Vicks First Defence Protective Hand Foam helps to protect yourself from catching a cold via your hands.
Vicks First Defence Hand Foam will give you long-lasting protection from cold germs and a wide range of other germs including: E.coli, staph. aureus and Salmonella species, by safely neutralizing them and continuing to protect you for up to three hours.


50ml

Antibacterial protective hand foam.

Contains Aloe Vera.

Safely neutralizes cold germs.

No water required.

Clinically proven.

Dermatologically tested, for everyday use.

Vicks Protctive Hand Foam is a light and pleasantly-scented foam which absorbs quickly into the hands and dries quickly too. This hand foam is both clinically proven and dermatologically tested for everyday use and is safe to use when you are handling food. It also contains Aloe Vera, making it kind to the skin.

You can use First Defence Hand Foam at any-time and anywhere because you do not need any water. It is ideal for those times when you cannot wash your hands or when you want that long-lasting effect that washing alone does not provide.

Directions: Simply apply the foam to dry hands: 1-2 pumps for adults, 1 pump only for children of 2-12 years. Rub the foam all over your hands and let it dry without wiping it off. Re-apply every 3 hours or after washing your hands.

First Defence Cautions and Warnings:

Always read the leaflet/label.

Suitable for children over 2 years old.

Ensure that children under 6 years of age, use this product under adult supervision.

Do not use on broken skin.