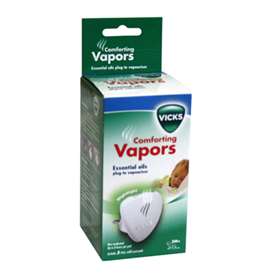 Click on image to enlarge
| | |
| --- | --- |
| Price: £5.49 (incl VAT) | Sorry, this product is no longer available. |
Vicks Essential Oils Plug-In Vapouriser will provide hours of soothing comfort, giving off soothing menthol vapours when plugged in and activated by heat. The plug-in vapouriser comes with 5 Vicks refill scent pads.
White plug-in vapouriser.
Includes 5 Vicks refill scent pads.
The vapouriser will fill the room with the aroma of clearing essential oils.
Soft glowing green nightlight included on plug-in.
Each pad lasts for up to 8 hours.
Non-medicated.
Suitable for children aged 3 months and up.
Vicks refill scent pads contain essential oils menthol, eucalyptus oil, cedar leaf oil and thymol.

Directions for use:
Simply tear scent pad pouch at notch and insert it into the top part of the Vicks Plug-In Vapouriser and then plug it in for up to 8 hours of soothing comfort. For best results, plug the vapouriser in to the socket closest to the user and allow 30-60 minutes for vapours to fill the room.

Precautions:
Always read the leaflet/label.
Risk of electric shock and fire hazard.
Only use with Vicks Refill Pads.
Contact with exposed pad may cause eye irritation.
Keep out of reach of children, pad may present a choking hazard.
For household use only.
Do not immerse in water.
Use only in a properly functioning 220-240V, 50Hz electrical outlet.
Do not use with extension cords.
Do not block vapouriser airflow.
Do not use household cleaners on this product.
Do not use more than one pad at a time.