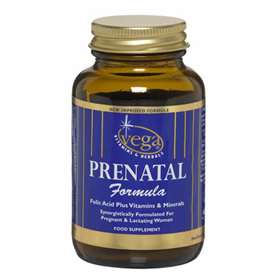 Click on image to enlarge
| | |
| --- | --- |
| Price: £6.19 (incl VAT) | Sorry, this product is no longer available. |
Vega Prenatal Formula has been designed for women who are planning or who are already pregnant and want to boost their nutrient levels to support their baby's development. Pregnant women or women trying to conceive need a boost of certain nutrients, such as folic acid, iron and vitamin C, and may benefit from taking a prenatal multivitamin to support their nutrient levels at this important time.

Prenatal Formula is safe to continue taking right through pregnancy and while breast-feeding. Research shows that mothers with a healthy nutrient status give birth to healthy babies.

Vegan and Vegetarian friendly - free from Glucose, Lactose, Gluten, Yeast, Salt, Gelatin, GM Proteins.


Recommended for:

Women who are planning to conceive.
Women who are already pregnant.
Each bottle contains 30 V-Caps (green, two-piece vegetable cellulose capsule).

Recommended Dosage:
One capsule each day with food
or as directed by a healthcare professional.

Free from
artificial additives, colours, flavours and preservatives, lactose, salt, sugar, corn, gluten, wheat, yeast, dairy, gelatin, genetically modified ingredients, hydrogenated fats, nut and peanut derivatives.

They are suitable for Kosher, vegan and vegetarian diets.

Ingredients per V-Cap:
Magnesium (Oxide) 120mg, Vitamin C (as Calcium Ascorbate) 60mg, Niacin (Vitamin B3 as Nicotinamide) 36mg NE, Zinc (Citrate) 15mg, Iron (Citrate) 14mg, Pantothenic Acid (Vitamin B5 as Calcium Pantothenate) 12mg, Choline Bitartrate 10mg, Inositol 10mg, Para Amino Benzoic Acid (PABA) 10mg, Vitamin E (as D-Alpha Tocopherol Acetate) 15iu 10mg α-TE, Vitamin B6 (as Pyridoxine Hydrochloride) 8mg, Vitamin B2 (Ribofl avin) 3.2mg, Vitamin B1 (as Thiamin Hydrochloride) 2.8mg, Folate (as Folic Acid) 400µg, Manganese (Citrate) 0.25mg, Biotin (Vitamin H) 150µg, Iodine (as Potassium Iodide) 150µg, Chromium (Chloride) 100µg, Copper (Citrate) 100µg, Selenium (as Sodium Selenite) 100µg, Vitamin K (Phylloquinone) 100µg, Vitamin D2 (Ergocalciferol) 200iu 5µg, Vitamin B12 (Cyanocobalamin) 4µg, Encapsulated in a vegetable cellulose capsule with vegetable magnesium stearate (lubricant).