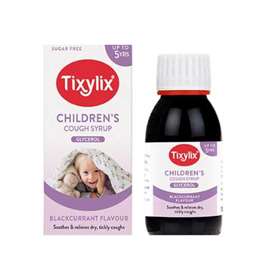 Click on image to enlarge



Price: £3.49 (incl VAT)

Tixylix Toddler Syrup is a specially formulated cough medicine, containing glycerol, for toddlers aged between 3 months and 5 years. The blackcurrant flavoured Tixylix Toddler Syrup provides soothing relief for dry, tickly coughs.
100ml toddler syrup.
For toddlers and children aged 3 months to 5 years.
Contains glycerol.
Soothes and relieves symptoms of children's dry, tickly coughs.
Bottle safety cap fitted and measuring spoon included.
Tasty blackcurrant flavour.
Sugar and colour free.
Tixylix Toddler Syrup is a sugar and colour free glycerol based syrup suitable for children aged 3 months to 5 years. Each 5ml dose of Tixylix Toddler Syrup contains 0.75ml glycerol as the active ingredient. A soothing cough suppressant to help your toddler or child to feel more comfortable.

Tixylix Toddler Syrup has a blackcurrant flavour making it easier for your child to take the medicine. The medicine also comes with a measuring spoon for easy dosage control.

Dosage:
Doses may be given 3 to 4 times daily by mouth as required. Allow 3 to 4 hours between doses. If the condition does not get better in 3 days, talk to your doctor. 3 to 12 months take one 5ml spoonful and 1 to 5 years take two 5ml spoonfuls.

Precautions, Cautions and Warnings:
Do not give to children under 3 months.
Always read the label and leaflet.
Do not use if your child is sensitive to any of the ingredients.
This medicine contains maltitol.
If you have been told by your doctor that you have an intolerance to some sugars, contact your doctor before taking this product.
Do not double a dose to make up for a forgotten dose.
Ingredients:
One 5ml spoonful of Tixylix Toddler Syrup contains: Glycerol 0.75ml. Liquid Maltitol (Lycasin), hydroxyethlcellulose, Sodium Benzoate (E211), Citric Acid Monohydrate, Sodium Citrate, Natural Flavours (Vanilla, Blackcurrant), Purified Water.


| | | | | |
| --- | --- | --- | --- | --- |
| Product code: TIX33H | | Price: £3.49 (incl VAT) | | |