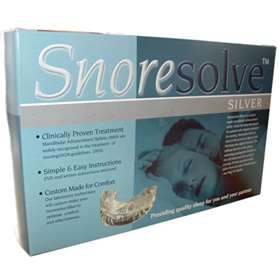 Click on image to enlarge
| | |
| --- | --- |
| Price: £79.99 (incl VAT) | Sorry, this product is no longer available. |
Please note that this product has been discontinued by the manufacturer.
Snoresolve Silver - Providing quality sleep for you and your partner at just 18p per night.


Clinically Proven Treatment. Mandibular Advancement Splints (MAS) are widely recognised in the treatment of snoring (SIGN guidlines, 2003).


Simple and Easy Instructions.
DVD and written instructions enclosed.


Custom Made for Comfort.
Snoresolve laboratory technicians will custom make your Snoresolve Silver to optimise comfort and effectiveness.

Snoresolve Silver is a custom made mandibular advancement splint, which has been developed for patients who require treatment for snoring. Snoresolve Silver is worn in the mouth at night to hold the lower jaw slightly forward. This reduces the risk of the airway narrowing causing the vibration of the soft tissue and the sound of snoring.

Product Information:


Step 1 - Take impressions of your teeth with the materials prvided within this pack.


Step 2 - Send the impressions to Solutions 4 Snoring in the pre-paid post bag.


Step 3 - Your custom made Snoresolve Silver will be returned to the address provided by you.