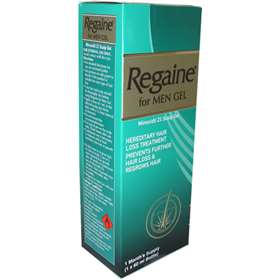 Click on image to enlarge



Price: £21.91 (incl VAT)
Sorry, this item is currently unavailable. Please consider purchasing Regaine Extra Strength For Men (3 x 60ml) Solution instead.
Regaine For Men Gel
Regaine For Men Gel contains the equivalent concentration of the active ingredient Minoxidil (2%) as Regaine Regular Strength for Men but is easier to use and does not drip.

Regaine Gel can be applied directly onto the scalp in the same way as you would the Regaine Solution. (This gel does not act like a hair gel. The Regaine gel format is purely for ease of use).

Regaine For Men Gel - 1 x 60ml Bottle.
Gel containing 2% Minoxidil.
Hereditary hair loss treatment.
Prevents further hair loss & helps to regrow hair.
1 bottle = 1 Months supply.
How to use Regaine Gel
Apply Regaine Gel twice a day. Each time, apply a total of 1ml to the affected areas of the scalp. Each pump of the applicator supplies 0.5ml, so it is basically 2 pumps' worth.

Note that Regaine Gel is not a hair gel - it is for application to the scalp only.
Is Regaine Gel suitable for your type of hair loss?
As with all the Regaine Minoxidil products, Regaine Gel is for men with a family history of hair loss who have a general thinning of hair at the top of the scalp (vertex). Regaine for Men Gel is more likely to help re-grow hair on men with thinning hair in this area.

If you have further questions, take a look at the Regaine Frequently Asked Questions page, or alternatively you can call our team on 0800 5421203.
What is the difference between Regaine For Men Gel and the normal liquid?
Regaine Gel contains the same active ingredient as the Regaine Regular Strength Liquid, and has exactly the same effect. However, some people prefer the gel as it stays where you apply it, whereas the liquid can drip.

Apart from that there's no practical difference!

Note that if you require the higher strength Regaine, this is only available in liquid form. See Regaine Extra Strength for more info.
Regaine Gel - ingredients
Active Ingredients: Minoxidil 20 mg/g. Minoxidil helps to improve the blood supply to the scalp and thus helps to promote hair growth. It is a clinically-proven treatment for hair loss.

Note that minoxidil is toxic to some animals, particularly cats.

Other ingredients: Ethanol (alcohol), propylene glycol, carbomer, diisopropanolamine, water.
More about Regaine gel
Regaine Gel is one of a range of products. See Express Chemist's Regaine page for more information on the rest of the range.