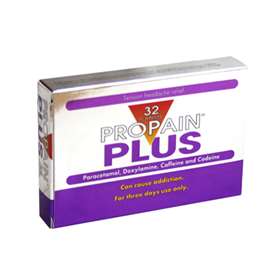 Click on image to enlarge



Price: £4.09 (incl VAT)
Sorry, this item is currently unavailable. Click here to receive notification when this product comes back into stock.
Powerful tension headache relief.

Propain Plus contains a combination of ingredients that are used to relieve mild to moderate pain and reduce fever.

Provides relief from: Backache, migraine, muscular aches and pains, rheumatic pain, headache and tension headache, neuralgia, toothache, sore throat, period pain and to relieve the pain and fever or high temperature from colds and flu. Propain Plus can also be used to relieve pain following operations and dental surgery.

Each Propain Plus caplet contains 450mg paracetamol, 5mg doxylamine succinate, and 10mg codeine phosphate. These are the active ingredients in this medicine.
Paracetamol acts as an analgesic (pain killer) and lowers body temperature, reducing fever. Doxylamine is an antihistamine, caffeine is a mild stimulant which also acts to help the effectiveness of paracetamol. Codeine is an analgesic.
Directions for Use:
Adults and children over 12 years of age - Take 1-2 caplets every 4-6 hours as needed for relief. Do not take more than 8 caplets in 24 hours. Do not give to children under 12 years of age.

IMPORTANT
Do not take with other products containing paracetamol.
Do NOT take the Propain Plus caplets if you are sensitive to paracetamol, codeine, caffeine, doxylamine succinate, antihistamines or to any of the other ingredients listed above.
Propain Plus should be taken only with caution by asthmatics. Propain Plus is not recommended for use during pregnancy or whilst breastfeeding.

Ingredients:
450mg paracetamol, 5mg doxylamine succinate, and 10mg codeine phosphate, maize starch, povidone, magnesium stearate, colloidal cellulose. The film coat contains cellulose. The film coat contains hypromellose, hydroxypropylcellulose, glycerol and carnauba wax.

Please Note: Due to MHRA regulations we can only despatch one box of Codeine-containing products at a time. Multiple orders will not be accepted. Codeine should not be taken for longer than 3 days as this can cause addiction. If you are still experiencing pain after 3 days of using Codeine please see your doctor.