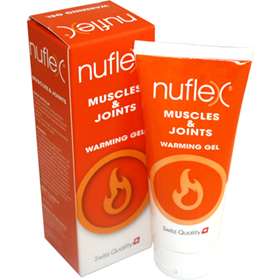 Click on image to enlarge



Price: £8.99 (incl VAT)
Sorry, this item is currently unavailable. Click here to receive notification when this product comes back into stock.
Nuflex warming gel 100ml is perfect for those with an active lifestyle, like athletes recreational sports people, walkers and gardeners. It is also helpful to those who sit for prolonged periods of time and those that suffer general aches and pains, stiff, stressed and sensitive muscles and joints. This can be before, during and after intensive sporting exertion, to aid recovery after sporting injuries and before and after excessive exertion or daily activities (walking, gardening or even sitting at the computer for prolonged periods of time).
warms up muscles prior to exercise
prevents accumulation of lactic acid
helps prevent injury and improve mobility
increases blood circulation
relives repetitive strain injury
relaxes muscles and joints, treats tired, stiff and tender muscles
acts as an anti-inflammatory, leading to reduced swelling and less pain.
Nuflex warming gel first gives a pleasant cooling sensation. Then the essential oils stimulate the blood flow in the skin tissue to provide intensive warming. The complex blend of essential oils contain components that are small in size so they penetrate the skin (epidermis) into the deeper layer (dermis) where capillaries transport it to the deeper tissues.

Directions for use:
Lightly rub the Nuflex Gel into the relevant area several times a day. Not for children under the age of 4.

Caution:
Do not rub into the eyes. Do not use if sensitive to one of the ingredients, on wounds or damaged skin. Do not use in combination with a compress.

Ingredients:
Isopropyl Alcohol, Aqua, Menthol, Glycerin, Triethanolamine, Citrus Limon Peel Oil, Mentha Piperita oil (pepper-mint oil), Carbomer, Limonene, Citral, Linalool, Geraniol