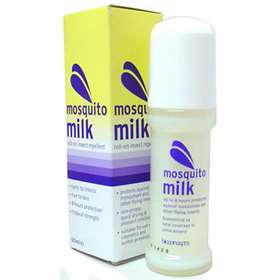 Click on image to enlarge
| | |
| --- | --- |
| Price: £6.39 (incl VAT) | Sorry, this product is no longer available. |
Mosquito Milk boasts essential oil of geranium, natural plant oils and diethyltoluamide (DEET, 20%) - making it an ideal insect repellent for all occasions, including the Tropics.

Mosquito Milk can be used to repel all types of biting insects, not just mosquitoes.

Mosquito Milk's simple to use roller-ball applicator also means that there is less mess and need for hand-washing per application.

A single stripe in each area of the body is all that is needed to deter insects, not complete coverage as with other mosquito repellents.

Mosquito Milk is very economical and goes further than traditional repellents.
Nice to skin.
Up to 8 hours protection. In areas of high humidity apply the milk every 4 hours.
Tropical strength.
Protects against mosquitoes (both European and tropical), horseflies, midges, gnats and other flying insects.
Non-greasy, quick drying & pleasant smelling.
Suitable for use with cosmetics and suntan preparations.
For holidays and all outdoor activities both in Europe and the Tropics.
Re-apply after swimming and showering.
Do not use on burnt or damaged skin.
Use within 18 months of opening.
Not recommended for use on children under 3.
Active Ingredients: Diethyltoluamide (DEET 20%).

Ingredients (INCI):
Aqua, Alcohol, Diethyltoluamide, Carbomer, Triethanolamine, Parfum, Sodium Styrene/Acrylate Copolymer (and)Sodium Laurel Sulphate (and) Trideceth-7, Methylparaben, Propylparaben, Cyclomethicone (and) Dimethiconol.