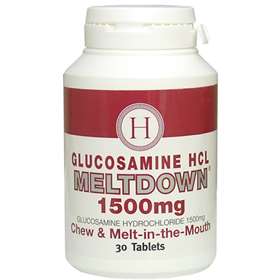 Click on image to enlarge



Price: £15.32 (incl VAT)
Sorry, this item is currently unavailable. Click here to receive notification when this product comes back into stock.
Meltdown Glucosamine HCL 1500mg Chew and Melt in the mouth tablets.


To maintain the mobility in your joints.
Does not contain potassium chloride (salt).
Orange flavour melt in the mouth tablets.
Contains 30 tablets.
Highest strength.

Meltdown Glucosamine HCL quickly melt in your mouth, perfect if you find it difficult to swallow large tablets.
Meltdown Glucosamine Hydrochloride has been referred to as a new, purer, form of Glucosamine. It does not contain any of the 500mg of the Potassium Chloride Salt which is found in nearly all Glucosamines (Glucosamine Sulphate 2KCL) and it is completely safe for most consumers to take along side most blood pressure medicines (ACE Inhibitors, Angiotensin II Receptor Antagonists, and Potassium Sparing Diuretics).

Directions:
Take 1-3 tablets a day in the morning or as instructed by your doctor.

Do not take if:
You are receiving WARFARIN therapy.
Pregnant or breast feeding (unless advised by your doctor).
If you are allergic to fish or shellfish.
If you have diabetes - seek advise first.

Not recommended for children.

Ingredients:
Glucosamine Hydrochloride • Dextrose Monohydrate • Maltodextrin • Sorbitol • Stearic Acid • Polyvinyl Pyrrolidone • Orange Flavour (natural flavour) • Lactose • Maltodextrin • Gum Acacia (190ppm) • Butylated Hydroxyanide • Magnesium Stearate • Silicone Dioxide • Aspartame (a form of phenylalanine) • Sacharin Sodium.