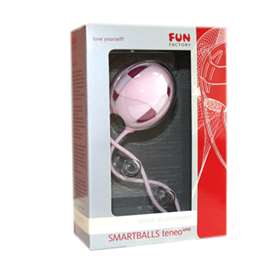 Click on image to enlarge



Price: £13.99 (incl VAT)
Sorry, this item is currently unavailable. Click here to receive notification when this product comes back into stock.
The teneo Uno by Fun Factory® Smartballs...
The Uno Ball is a sister product to the Original Smartballs by Funfactory. This vaginal ball is perfect for those who are beginners to pelvic floor exercise. It is also designed for women with a dropped or tilted uterus.
Made from silicone; medically-approved, hypoallergenic material.
Features a new "easy-in" hollow at the base, to make insertion simpler.
The internal balls feel smooth, offering a steady rotation and are very quiet.
Strengthens pelvic muscles and supports post-natal exercises.
Colour combinations vary between black, pink and white.
Why use the Uno Ball?
The Uno Ball helps to strengthen vaginal muscles. By training these muscles and your pelvic floor, you can intensify the feeling during sex and help prevent stress incontinence suffered by many women at some stage in their life.
How does the SmartBall Uno Ball work?
Once inside the vagina, the round weight inside the ball sends out vibrations as you move. These vibrations signal to the pelvic muscles to hold on to it, thus strengthening the muscles.
How to use SmartBalls teneo Uno Ball:
Before you begin and after every use, make sure you wash your SmartBall with warm water and mild soap.
Insert the Uno Ball length ways in to the vagina until the removal loop is the only part out side the body. You can keep the SmartBall in for a matter of minutes or hours if you prefer. It is suggested that the Uno Ball is best to use whilst going about everyday activities.
To remove the ball, relax and gently pull the loop.

If you are pregnant, use the Uno Ball only after consulting the doctor or midwife. If you want to use a SmartBall/Uno Ball after birth, again, please check with a doctor or midwife first.