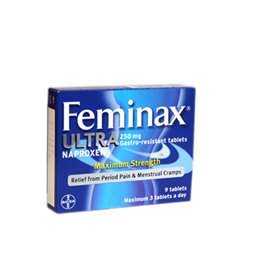 Click on image to enlarge



Price: £4.20 (incl VAT)

Feminax Ultra - Maximum Strength. Many women suffer from severe menstrual cramping during and around their monthly periods. Feminax Ultra has been designed to offer maximum strength pain relief for women between the ages of 15 to 50.
Gastro-resistant tablets (enteric coated).
For the symptomatic relief from period pains and menstrual cramps.
Contains Naproxen 250mg.(a NSAID*).
3 tablets per day (maximum).
Naproxen works by reducing the production of prostaglandins, which in turn reduce the contractions of the uterus - the cause of period pain.

Directions:
To be taken orally.
Swallow tablet whole with a glass of water or milk, with or after food. As soon as pain begins, take two tablets to start with. Take a 3rd tablet after 6-8 hours if the pain is still persistent.

DO NOT take more than 3 tablets in a 24 hour period. Feminax Ultra should not be taken for more than 3 days in a row.
Important Information!
Do not take if:
You have ever had a stomach ulcer, perforation or bleeding.
You are taking asprin, ibuprofen or other related pain killers.
Speak to you GP before taking Feminax Ultra if:
You have asthma, liver, heart, kidney or bowel problems.
You might be pregnant.
Consult your doctor if symptoms persist.

Ingredients:
Naproxen 250mg • Lactose • Maize Starch • Polyvidone • Sodium Starch Glycollate • Magnesium Stearate.

*NSAID = Non-steroidal anti-inflammatory drug.




| | | | | |
| --- | --- | --- | --- | --- |
| Product code: 3353075 | | Price: £4.20 (incl VAT) | | |