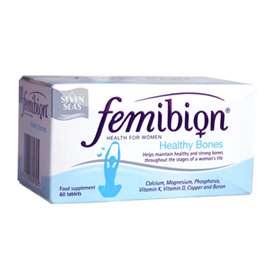 Click on image to enlarge



Price: £9.49 (incl VAT)
Sorry, this item is currently unavailable. Click here to receive notification when this product comes back into stock.
Femibion Healthy Bones - Health for Women - Maintains healthy and strong bones.
Contains:
Calcium.
Magnesium.
Phosphorus.
Vitamin K.
Vitamin D.
Copper.
Boron.
Femibion Healthy Bones is a supplement made especially for women to help maintain strong and healthy bones. Being a women means you are more prone to osteoporosis so taking a supplement such as this one can make all the difference. It is particularly important to maintain your bone strength when you are going through the menopause as oestrogen levels drop.

Directions for Use: Take two tablets per day with a cold glass of water.

Ingredients: Dicalcium Phosphate, Calcium Carbonate Prep (Calcium carbonate, Maltodextrin), magnesium Oxide, tablet coat (Colour: Hydroxypropyl Methyl cellulose, Titanium Dioxide, Glycerol;Glycerol), Maltodextrin, Microcrystalline Cellulose, Crosslinked Sodium Carboxy Methyl Cellulose, Silicon dioxide, Stearic acid, magnesium Stearate, Sodium borate, Copper Sulphate, Vitamin D Prep, (Sucrose, Acacia, Corn starch, fractionated Vegetable oil, Vitamin D, DL Alpha Tocopherol), Vitamin K1 Prep. (Acacia, Vitamin K1, Sucrose)