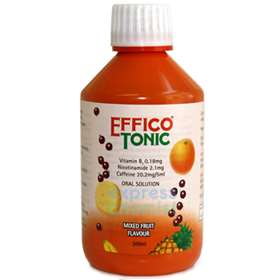 Click on image to enlarge
| | |
| --- | --- |
| Price: £4.34 (incl VAT) | Sorry, this product is no longer available. |
Effico Tonic in Mixed Fruit Flavour is a vitamin tonic with Vitamin B, Nicotinamide and Caffeine.


Formulated to prevent the loss of vitality after illness or hospitalisation.
Also ideal for when feeling tired, run down and stressed.
Effico may help recover a loss of appetite.
Contains (per 5ml): Vitamin B1 - 0.18mg, Nicotinamide - 2.1mg and caffeine 20.2 mg.
Tasty summer fruits flavour for oral consumption (may be diluted in water if preferred).Effico mixed fruit flavoured vitamin tonic is a supplement containing additional caffeine.

Vitamin B1 (Thiamine) is important for the maintenance of a healthy muscles, nervous system and normal heart function. The need for thiamine is increased during illness, fatigue, physical injury or stress. When you feel run down, irritability and a loss of appetite often occurs.

Nicotinamide is important for producing energy from blood sugar. It helps the nervous system to function properly, as well as maintaining healthy skin and digestion.

The added caffeine is a very mild stimulant. This helps you to feel more awake and motivated.

Directions:
Adults and the elderly - 10ml (two 5ml spoonfuls) immediately before meals, three times a day.
Children (over 6 years) - 2.5 to 5ml (half to one 5ml spoonful) taken as for adults. May be diluted with water if desired.