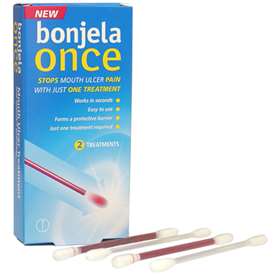 Click on image to enlarge
| | |
| --- | --- |
| Price: £7.99 (incl VAT) | Sorry, this product is no longer available. |
Unfortunately Bonjela Once has been discontinued by the manufacturer. Please see the new Bonjela Complete Plus for a similar treatment.

Suitable for 12+ years

Bonjela Once Mouth Ulcer Treatment, with HybenX™ technology, is a one off solution for dealing with mouth ulcer pain. The Bonjela treatment forms a protective barrier over the ulcer, creating the optimum condition in which it can heal. Once applied, it takes a matter of seconds for Bonjela Once to treat the associated pain and discomfort.

Bonjela Once at a glance
It only takes one treatment of Bonjela Once to stop mouth ulcer pain.
Quick, easy and effective.
Forms a protective barrier to assist healing.
This pack contains 2 treatment sticks.
Suitable for children and adults over 12 years of age.
Directions
Dry affected area with the cotton bud provided.
Squeeze and bend the purple applicator tip marked with a red ring until it clicks. The liquid inside will then flow down to the opposite end.
Dab onto the effected area for 5 seconds, covering whole ulcer.
Rinse mouth out with water.
Important: If you feel that one application is not enough, repeat the process above using the second treatment stick. If pain persists, consult your doctor.

Do not use

If you are allergic to sulphur.
If you are pregnant or breast feeding.
Under the age of 12 years.
Anywhere other than the mouth.
Ingredients: Hydroxybenzenesulphonic Acid • Hydroxymethoxybenzenesulphonic Acid • Sulphuric Acid • Water • colour (FD & Red 40).