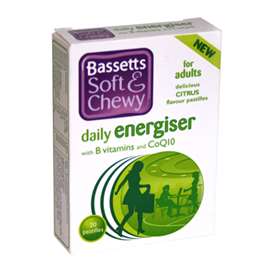 Click on image to enlarge
| | |
| --- | --- |
| Price: £3.99 (incl VAT) | Sorry, this product is no longer available. |
Bassetts Soft & ChewyDaily Energiser with B vitamins and CoQ10.
Bassetts Soft & Chewy Daily Energiser vitamins have been specially developed for adults with busy, hectic lives and slumpers, people who experience energy slumps during the day. It is hard to keep your energy levels up when you are busy, working hard, playing hard and needing to focus and be on the go all the time. Sometimes you forget to look after yourself and don't eat as well as you could, or you start over-relying on quick pick me ups, like sugary foods and caffeinated drinks. Daily Energiser will help to keep your energy levels balanced all day and all night!
20 citrus flavoured pastilles.
Aids good general health.
With added B Vitamins, CoQ10 and Vitamin C and E.
Promotes immune health and energy levels and metabolism.
Supports antioxidant protection of body tissues.
Natural flavours.
No added colours.
No artificial sweeteners.
Bassetts Soft & Chewy Daily Energiser has been specifically developed to support those who lead busy and hectic lives and would like to maintain their energy levels through the day and the night. Bassetts have formulated a daily vitamin with high levels of particular vitamins and minerals that your body requires during busy and hectic times. All vitamins and minerals in Bassetts Soft & Chewy Daily Energiser provide 100% of your recommended daily amount.

CoQ10 helps to promote energy metabolism and immune health.

B Vitamins: B2, B5, B6, B12 help to promote energy and metabolism, cognitive function, skin, hair and nail health and heart and blood health.

Vitamins C & E help to support healthy skin and gums, antioxidant protection of body tissues, iron absorption into the body.


| | | |
| --- | --- | --- |
| Vitamin E | 10mg (a-TE) | 100 |
| Vitamin C | 60mg | 100 |
| Vitamin B2, Riboflavin | 1.6mg | 100 |
| Vitamin B5, Pantothenic Acid | 6mg | 100 |
| Vitamin B6, Pyrodoxine HCI | 2mg | 100 |
| Vitamin B12, Cyanocbalamin | 1µg | 100 |
| Co-enzyme Q10 | 10mg | * |
RDA = Recommended Daily Amount.* = RDA not established.

Dosage:
Chew one pastille daily.
For an extra boost, up to three pastilles daily.

Warning:
Food supplements should not be used as a substitute for a varied diet.
Do not exceed stated dose.
Not suitable for children under the age of 12.
Keep out of reach of children.

Ingredients:
Glucose Syrup, Sugar, Dextrose, Gelatine (bovine), Vitamin C, Coenzyme Q10, Vitamin E Acetate, Citric Acid, Provitamin B5, Natural Flavouring, Glazing Agent (Coconut Oil, Vegetable Fats, Carnauba Wax), Palm Oil, Riboflavin 5'-Phosphate Sodium, Vitamin B6, Vitamin B12 Compound (contains Maltodextrin). Contains Sulphites.